28 Jul

Offseason Fantasy Quick Hits: Metropolitan Division – New Jersey Devils

 

It's already been a pretty wild off season in the NHL with lots of big names changing teams. As we are in the dog days of summer, we might as well get prepped for the 2016-17 season and discuss the fantasy impacts of all these moves. I introduce to you Offseason Fantasy Quick Hits. I will be discussing the fantasy impact of all major moves made by all NHL teams over the course of the summer. Part three of the series previews the New Jersey Devils for this upcoming season.
Previous Articles:
NEW JERSEY DEVILS
Got: Taylor Hall, Beau Bennett, Vernon Fiddler, Ben Lovejoy, Brandon Gormley
Lost: Adam Larsson, Bobby Farnham, Tyler Kennedy, David Schlemko, David Warsofsky, Stephen Gionta, Jordin Tootoo
The Taylor Hall-Adam Larsson swap was the first part of the craziest 23 minutes in NHL history. This trade has some pretty big fantasy implications.
Firstly, I like Hall to mildly improve upon his last year's numbers. He is on a better team this year than he was on last year's Oilers and will be a lot less under the microscope playing in New Jersey. 30 goals and 70 points isn't out of the question if he can stay healthy like he did last year.
What I really like is the impact Hall will have on his line mates. Adam Henrique centered Taylor Hall in his OHL days for the Windsor Spitfires. Henrique has been a consistent 45-50 point guy, but actually put up his best statistical season in his rookie year, posting 51 points when he was playing with legit talents like Ilya Kovalchuk and Zach Parise. Henrique has the talent and familiarity with Hall to enjoy what I think will be a breakout year as he enters the season at a prime age. I'd peg Henrique to shatter his career highs, and project him for 65 points this year. Depending on his fantasy ranking, he is definitely a guy you will want to target in drafts this year. I really like him as a sleeper pick though.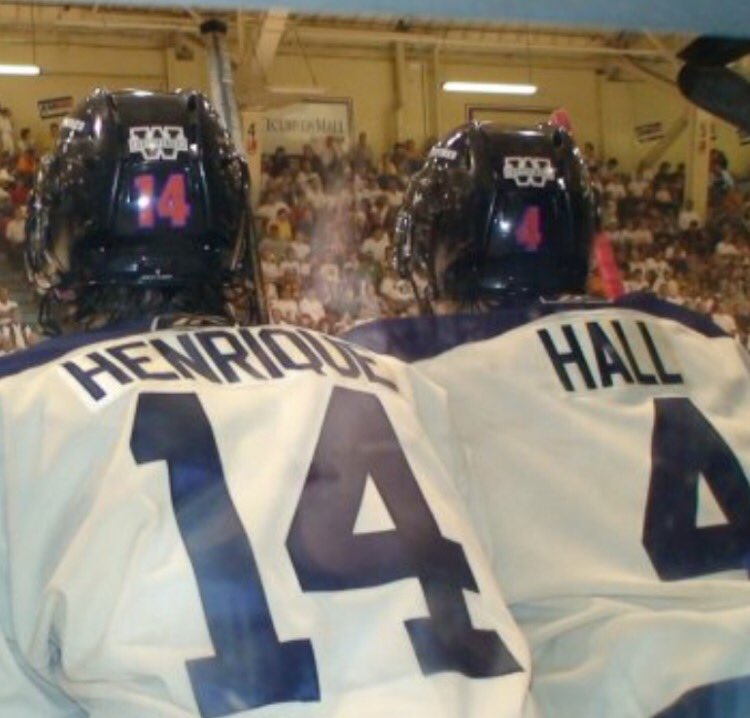 Adam Henrique and Taylor Hall from their Windsor Spitfires days.
Whoever plays the right wing on that line – either Devante-Smith Pelley or Kyle Palmieri is also bound to have a big year. Both of them are former high draft picks who were disappointments until they arrived in New Jersey. I like both of these players, and if either of them end up on New Jersey's top line, you will definitely want to own them. As Palmieri put up 30 goals and almost 60 points last year, you will want to own him regardless. I wouldn't expect much more than 60-65 points in a best case scenario though. DSP had impressive numbers over a small sample size for New Jersey, and he is one of those guys you might want to take a late round gamble on. Him too I can't see cracking more than 55-60 points.
Beau Bennett is also a former first round pick who for years was pegged as the next guy to be Crosby's winger. Injuries have derailed that dream, however New Jersey and former Penguins GM Ray Shero believes in him and if he ever could stay healthy could put up 50 points if he were in the right situation. I don't think he's draftable but throw him on your watch list.
Other then the above, Mike Cammalleri is talented but often injured. Treat him as a guy who will put up almost a point a game when healthy, except be wary of his injury woes. I'd probably avoid him unless he falls in your draft.
Travis Zajac isn't really fantasy relevant any more. Also, Patrik Elias is another year older – even if he comes back I'd stay away for now.
From a fantasy perspective, New Jersey's defense is a stay away zone. Of them all, Damon Severson has the best chance to produce.
Continue to treat Cory Schneider like the top 5 fantasy goalie he is.
Pavel Zacha is an extremely talented rookie, however I don't really expect big things out of him yet this year, but he is certainly someone to keep an eye on. Also, for really deep leagues, Reid Boucher is someone to keep an eye on but I doubt he cracks New Jersey's top six this year.
——————————————————————————————————————————————————————————————————————————————————————————–
Your comments and questions are welcome below and I will try to answer as soon as I can. Feel free to send all your fantasy hockey related questions to akiberg@gmail.com!
Also, for those that missed it, special guest Lenny Melnick was on The SportsCrew's Wednesday baseball radio show on Wednesday July 27th. I encourage you to listen if you haven't. Click here to listen to it, along with other past episodes of SportsCrew radio,. Use this link to tune into Baseball with the SportsCrew every Wednesday! 
Thanks for reading!!!