17 Aug

Offseason Fantasy Quick Hits: Metropolitan Division – Washington Capitals

 

It's already been a pretty wild off season in the NHL with lots of big names changing teams. As we are in the dog days of summer, we might as well get prepped for the 2016-17 season and discuss the fantasy impacts of all these moves. I introduce to you Offseason Fantasy Quick Hits. I will be discussing the fantasy impact of all major moves made by all NHL teams over the course of the summer. Part eight of the series previews the Washington Capitals for this upcoming season.
Previous Articles:
WASHINGTON CAPITALS
Got: Lars Eller, Brett Connolly, Darren Dietz
Lost: Jason Chimera, Mike Richards, Mike Weber, Michael Latta
The Caps didn't lose any really significant fantasy players. Brett Connolly is a former high pick who has thus far failed to live up to expectations in two different organizations. Still, I'm not ready to completely write him off but at this point, he's likely not cracking the top 6 in Washington and he's more of a guy who will be on my watch list.
Don't draft Lars Eller unless you are in a VERY DEEP league.
Ovechkin has now put up 3 straight 50 goal years. The guy only put up 21 assists last year though. Still, no one has a better knack for finding the net than Ovi and he should still be in your top 5-7 guys to draft. If your league counts shots on goal, and/or also rewards stats like powerplay goals, this makes Ovi even more valuable.
Hard to say if Evgeny Kuznetsov can repeat last year's magic. I'll say this, he is a legitimate talent and while he may not top the 77 points he put up last season, there's no reason to believe he won't put up at least 65-70. Depending on where he is ranked, Kuznetsov is a guy to target as a 2nd or 3rd round pick. In the first round, I'd  go with a safer bet like Joe Pavelski or Vladmir Tarasenko, but it all depends how much risk you are willing to take. Kuznetsov has the talent to be a premier point getter in this league, I'm just not ready to proclaim him there yet, and sophomore slumps have happened more than once before.
Outside of those two guys, Nicklas Backstrom has been criminally underranked by Yahoo the past two years, as he was hovering around the 50-60 ranking mark. I doubt that's the case again this year. It's pretty much a toss up between if I'd rather draft Backstrom or Kuznetsov. Backstrom has been a pretty consistent point per game guy over his career, therefore he is a bit safer than Kuznetsov, although he lacks the electricity and goal scoring prowess Kuznetsov possesses. He's a guy I would spend a 2nd or 3rd round pick on as well.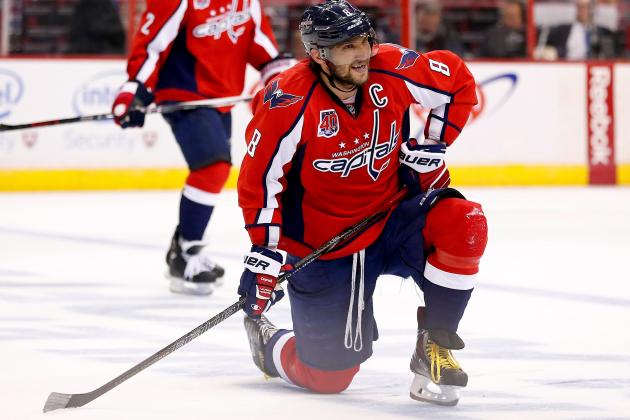 ALEX OVECHKIN HAS 3 CONSECUTIVE 50 GOAL SEASONS.
I hate T.J. Oshie and Justin Williams as fantasy players. Don't get me wrong, because I love them in real life and would love to have them on my team. These are the types of guys you need to win. However, they are also guys who have good reputations because they do more for you on the ice that the coach will notice than they will do for you in the game of fantasy. I find their real life reputation often makes fantasy GM's reach on guys like these. These guys are great players who play on good lines on a good team, but let's not be fooled – in fantasy they are consistent 50 point guys no matter how you slice it. I'm not saying that's a bad thing, but they are safe picks with low ceilings, and probably two guys I won't draft.
John Carlson is the defenseman to own in Washington. He is a guy I will draft and expect 50 points from. He is entering his prime years and could finally get to 60 points this year. He falls into the 5-10 range of top offensive defenseman in the league, although he is probably closer to 10 than he is 5.
I like Dmitry Orlov to improve upon his numbers last season too. He is only 24 and pretty talented. He should get some more powerplay time which should increase his output. I don't mind him as a late round pick in deeper leagues. He could put up 35-40 points this year.
Braden Holtby is elite. Draft him as a top 3-5 goalie with confidence. He should have no problem putting up 35 wins with above average save percentage and goals against average ratios.
I don't like Marcus Johansson as a fantasy player. I'd probably stay away.
If Andre Burakovsky can cement himself in Washington's top 6 this year, he could be a sneaky good late round pick. Still I wouldn't expect more than 60 points out of him this year with 45-50 points being the more likely outcome. He's appeared on many sleeper pick lists already therefore he might not be so under the radar anymore.
If Jakub Vrana or Madison Bowey can crack the roster, they are certainly guys worth keeping an eye on as well. I think their fantasy impact is beyond 2016-2017 though.
——————————————————————————————————————————————————————————————————————————————————————————–
That wraps up the Metropolitan Division! Onto the Atlantic!
Your comments and questions are welcome below and I will try to answer as soon as I can. Feel free to send all your fantasy hockey related questions to akiberg@gmail.com!
Thanks for reading!!!